WAWRZYNIAK INVITED TO NAMM SHOW IN CALIFORNIA

TASCAM has invited Bruce Wawrzyniak to attend the NAMM show in California next month to record interviews for "Now Hear This Entertainment" at their booth. The event takes place January 19-22, 2017, at the Anaheim Convention Center. NAMM is the National Association of Music Merchants.

"This is exciting," Wawrzyniak said. "It's a great opportunity for the show. Even though Now Hear This Entertainment has listeners in 124 countries around the world, there's a tremendous volume of people that come through the NAMM show who are the target audience for NHTE. I'm very grateful to TASCAM for the invitation and the opportunity to come together with them at this event. I look forward to contributing to their presence at the NAMM show."

Wawrzyniak recently became a user of TASCAM's MiNiSTUDIO Creator US-42, having been able to record interviews, as a result, on-site at the 8th Pensacola Beach (Florida) Songwriters Festival, the 32nd Frank Brown International Songwriters Festival (in Alabama), and, as seen in the photo below, a podcasting event in, coincidentally, Anaheim. Along the way he was featured in this article that was published on the TASCAM website.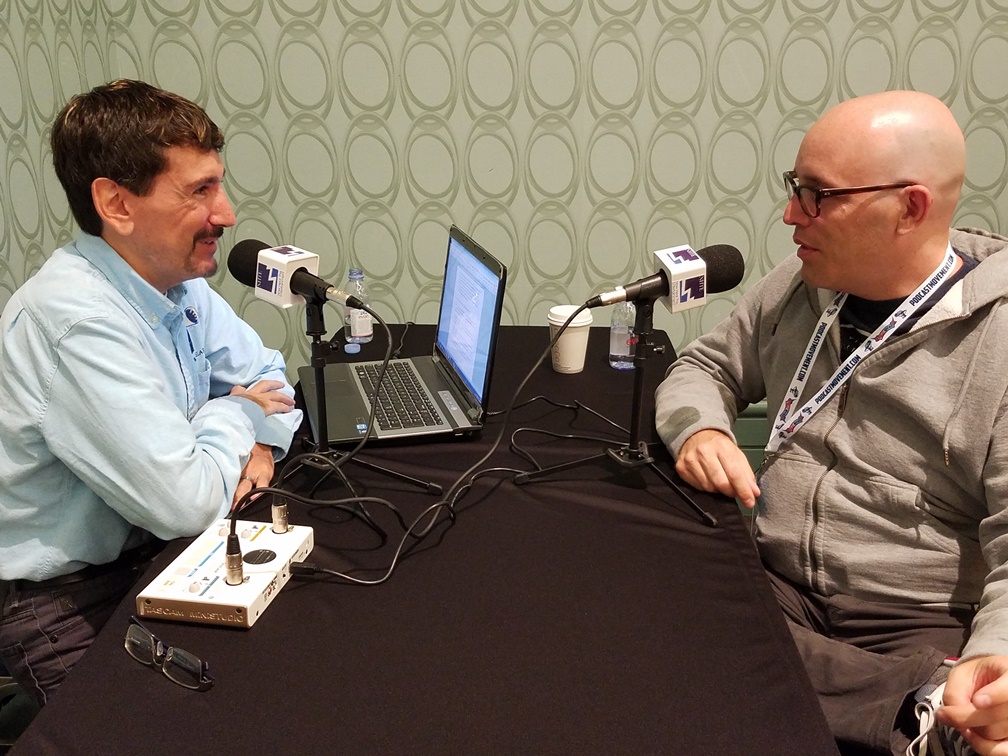 Bruce Wawrzyniak (left) uses the Tascam MiNiSTUDIO Creator to interview Mark McConville on location in Anaheim for what would be Episode 144 of "Now Hear This Entertainment."

In addition to recording interviews at the January event, Wawrzyniak will be an interviewee, with TASCAM planning to mobilize a film crew at the NAMM show to produce a video about NHTE and its host.

"Having Bruce partner with us for NAMM is a natural," said Eric Larsen, Director of Marketing for TASCAM. "With the MiNiSTUDIO we are transforming podcasting in the same way that the TASCAM Portastudio revolutionized home recording. Bruce's expertise in podcasting and focus on music – and musicians – make him the ideal guest to invite to the party."

A massive event boasting 100 thousand attendees over four days, plus 1,700 exhibitors, NAMM takes place twice a year, with the summer edition set for July in Nashville.

###

About TASCAM
TASCAM is the professional audio division of TEAC Corporation and produces the most comprehensive line of audio recorders, mixers and related equipment in the professional audio industry. TASCAM has offices in the U.S., Germany, Japan, Mexico and Latin America.

About NHTE
"Now Hear This Entertainment" is a weekly show featuring interviews with guests who are having success in the entertainment business. Having gotten listeners from 124 countries, spanning all five regions of the world (Africa, the Americas, Asia, Europe, and Oceania), NHTE is available (for free) on iTunes, Google Play Music, Stitcher Radio, SoundCloud, TuneIn Radio, and www.NHTE.net, among other platforms. Guests have ranged from participants on "American Idol," "The Voice," and "America's Got Talent" to a Rock & Roll Hall of Famer, a Grammy Award winner, a Las Vegas headliner, and even the lead guitar player for Garth Brooks and the touring guitarist/background vocalist for Billy Joel.