NHTE 150 Mike Delguidice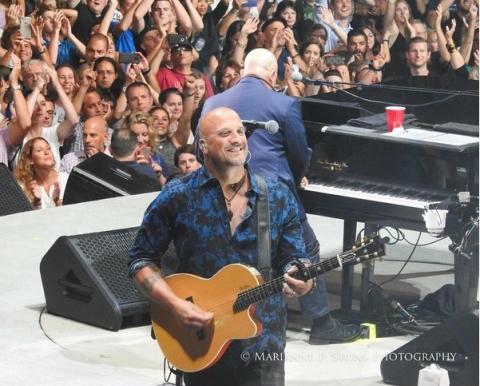 Billy Joel's guitar player/background vocalist on tour, he also continues with his successful Big Shot tribute band that got him to his spot with the "piano man." In addition to touring with and playing with his own tribute band, he also performs shows doing only his original music. A singer/songwriter and multi-instrumentalist, his original song "Ordinary Guy" has been picked up as the theme song for the CBS sitcom "Kevin Can Wait." He was recently featured in Rolling Stone magazine and has also gotten coverage in national media such as "The Today Show" on NBC.
Show Quotes:
"Sometimes as a (song) writer, and as a father, it's easier to communicate what you're feeling in a song, then to just say it, kind of face-to-face. I can just kind of like, 'Hey, push Play' – this is what I'm feeling."

"The dream of what we're doing didn't start there (doing cover music). The dream started that we would be our own artists."

"I think no matter what you're playing, if you're playing cover music you're paying tribute to somebody. If you didn't write the song or you didn't perform the song, then you're basically paying tribute to the person that did."

"I'd say to people coming up, you really want to get stage experience first. And there's nothing like playing cover music to get stage experience. I've been doing that for so long and now I found out that when I do my own stuff or when I get on the stage with Billy (Joel) now in front of sometimes 50 thousand people, it's very comfortable to be in front of large audiences because over the years paying the dues with the cover band and playing in front of thousands of people… It's your college, it's like you're going to school, that's your school for the big day."

"My droughts are my accumulation, that's my accumulation time. That's where life has taken over. That's where my material for my next batch is now being born out of. So I've learned to embrace the valleys."

"I'm not one of those guys that has to be in a bad place to write a song. I need to be in a good place, mentally."

"My songs are my diary."

"Doing an original gig for me is some of the most frightening 90 minutes that I will spend."

"I always feel like I write psychic music. I feel like sometimes there are songs that I write exactly about something that happened or sometimes I don't know what I'm writing about but I know it's gonna happen and it does."

"I get to look over every night, watch (Billy Joel) play a lot of his stuff on the piano when his piano is tilted the right way and I find myself just watching him play stuff and me realizing how poorly I play (laughs)… Every night I'm hearing what I do wrong, I'm not hearing what I do right and I'm thankful that people hear it in a right way… I consider myself a hack and I'm thankful to be where I'm at and to be able to do what I'm doing. I never saw it coming like this."

"The fairy tale really has to become, 'Am I living the life I want to live?' It's not based around when I go on the road or when I have a Big Shot show."

"What we're doing in music… it's not something that's learned. You either have a natural ability for singing or you're probably not going to really be a great singer."

READ THE ROLLING STONE MAGAZINE ARTICLE REFERENCED IN THIS INTERVIEW here.
Songs on this episode:
"All Wrong"
"Ordinary Guy"