NHTE 199 Victoria Fatu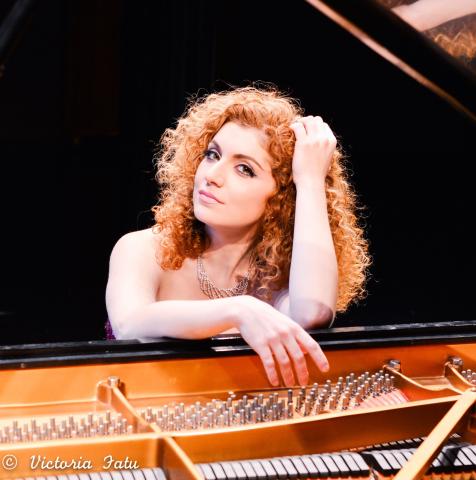 A singer and concert pianist who was born in Azerbaijan and has performed in countries from North America to Asia to Europe, having even done a solo recital performance at Carnegie Hall in New York. She has earned a long list of honors and distinctions over the years, including an Excellence Prize from the President of the Russian Federation in back-to-back years. She released a single in late June, releasing another new single in a couple weeks. She is currently working as a professor of piano at West Virginia State University, where a video of her that went viral was shot, with her spontaneously singing Justin Bieber during one of her classes.
Show Quotes:
"Going on-stage for me, it's the most natural and organic thing. Like, I feel like I'm normal and I'm myself and I'm relaxed and free when I'm on-stage. So, I get nervous in everyday life more... I get anxious a lot or I get nervous, or freaking out about different things. But when I'm there, on-stage, literally I feel nothing but being free and natural with myself."

"I do believe very strongly that every single person is entitled to their own opinions. And, just as, myself, I can go to somebody else's performance and deeply resent it while a lot of people absolutely love it, and, the other way around. I can be very captivated by something people find outrageous or out of ordinary, or, something that is not acceptable I might find it interesting. So, I am very respectful for everyone's opinion at my performances."

"I've been experimenting and discovering myself throughout a few years and I just discovered that people, most people, and most of the audiences, are very welcoming into the, some sort of a blend of genres."

"For me, what matters is the song - how much the song speaks to me and how much I can express through that particular song."

"I do consider myself a very passionate Instagrammer... This is quite fascinating and absolutely incredible. Five years ago I would never believe that doing Instagram blogging would bring so much to my life, in so many aspects, because... I got so many opportunities as a musician as well as a model, which I never would have considered myself to be."

"At some point I started a YouTube vlog... and that grew like crazy, very quick, and people started approaching me, saying, 'Would you please wear this for us,' ya' know, 'do a photoshoot for us and post it on your social media,' and I was very skeptical at first. But then, apparently there was a market for this, so, I started modeling for different companies and to this day I represent a lot of companies."

"You probably can guess I'm not your average professor, I'm a very, very, very eccentric professor. And I remember... talking to some of the administrators, saying, 'I know that I'm eccentric and I don't behave like I should and I don't dress like I should, but I give (all my) heart to this,' and I was very surprised how... welcoming and how well received was my teaching methods."

"At some point a major network's TV show approached us and the next thing I knew (my daughter) went through all stages of casting and she made it to the show and then to another show and... next year... you're going to see her on a couple of, literally, the biggest shows in the country."

"There are priorities in life. I cannot be selfish enough to only think about how many shows I can book."

"I'm living my own dream... and I'm never satisfied and I have different dreams every day. I'm not real loyal to my own dreams."
Songs on this episode:
Rakmaninov Polka
"Not Again"