NHTE 197 Marty Dread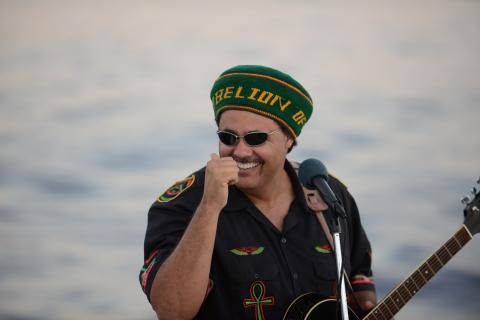 Hawaii-based singer, songwriter, guitar player who has been releasing new music for 22 years, including 17 albums, and has a new release that he's hoping to have out by the start of 2018. He performs throughout the Hawaiian Islands, the U.S., and around the world. He both opened for and appeared on stage with Willie Nelson, and in recording studios he has worked with the likes of Michael McDonald and Kris Kristofferson, among many, many others. He has even earned four Hoku Award nominations, which is Hawaii's version of the Grammys. Plus, he was also honored with the Ghandi and Martin Luther King Peace Hero Award. During this interview he also tells of how he got a Number One song in Tahiti.
Show Quotes:
"People are just so addicted to their cell phones and their iDevices and things so much so that they might not even look out the window to see a beautiful sunset or they might not notice a beautiful girl walking by because they're so addicted to their phone technology."

"Because I live in Hawaii, coming up amongst the ranks as a musician, I was sort of forced to play all genres of music because it's a very tourist-based economy."

"With 17 albums out and countless songs that I (haven't) released, I get caught in the trap sometimes of having to please the audience yet want to show them my art. So I have to try to find that balance."

"Holding out for your own engineer sometimes can be a make or break thing with getting a booking."

"Although it was very lucrative for me to do - it paid very well - I had to make the decision, I had to ask myself, am I going to be doing this when I'm 50? Do I want to be a singer on a boat or am I going to try and really make a go at making my career jump?"

"I do really feel like my gift to this world is singing my original songs."

"It's so much harder now to make money as a musician than it was, say, in the 70s or 80s, with the digital streaming and people being able to download music for free."

"I look at a CD or a record as a business card. If someone likes my song, I get the booking, and that's how I stay alive in music."

"It was said about seven years ago that Hawaii was putting out more products annually than Nashville, but, that circle of musicians is very small and very tight."
Songs on this episode:
"Teach Them" (instrumental)
"Love Somebody"