NHTE 195 Geissie Torres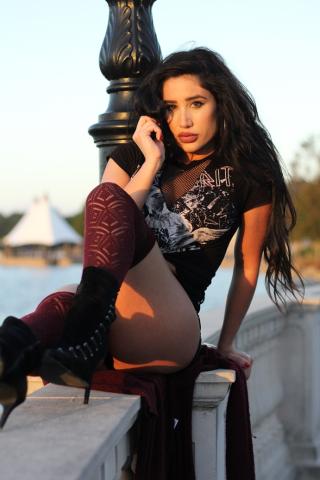 A singer, songwriter, and entertainer, who is releasing a new single this month and working towards an EP. She is a regular performer at Mango's Tropical Cafe (2500 capacity) in Orlando, entertaining audiences in two shows each night. But, she has also performed extensively away from there, including not only outside Florida but even televised performances as well, notably in Mexico for "Va Por Ti" on Univision. And it should be noted that she also is a bi-lingual singer as well.
Show Quotes:
"I do it with love because it's me. It's the only one thing I... can't picture myself not doing for the rest of my life."

"...some people may act on a stage. To me, just having a smile on my face and wanting people to have a good time just like I am is not an act. It's something that comes completely natural to me."

"Being on the stage does allow me to kind of have, I guess you can say, an alter ego."

"(Performing is) a getaway from life itself."

"If you're as passionate about being an artist as I am... that one night that you could be just having a bad night and it shows on stage, that one night could be it for you. You never know who's watching you."

"You're an image, you're a brand as an artist and you just have to give it your all because you never know - there's always people filming, there's always people watching, and at the end of the day you're only making yourself look good or bad."

"Music is my everything and it's going to make me feel better. It's going to enhance my mood."

"When you don't put so much thought into how people perceive you, I think you just really enjoy what you're doing and it shows."