AWARD NOMINATION FOR NHTE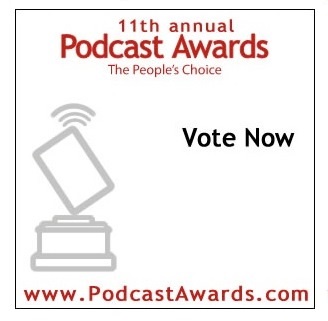 "Now Hear This Entertainment" has been nominated in the Music category for the 11th Podcast Awards. Online voting is underway through June 12th and the winners will be announced live on YouTube on Sunday, June 26th.

"What an honor this is," said Now Hear This President Bruce Wawrzyniak, who hosts the weekly show. "To see NHTE listed on the ballot along with all the others really does make you stop. You know from analytics that the show has listeners worldwide, but when this type of recognition comes along it makes you feel good that people are taking notice.

"Each episode of NHTE is under an hour long, yet there's probably close to five hours of work that goes into each one. It's a labor of love, and this nomination for a Podcast Award only adds fuel to keep going."

The annual Podcast Awards has 20 categories and votes can be cast everyday through www.PodcastAwards.com.

"Now Hear This Entertainment" has gotten listeners in more than 115 countries, spanning all five regions of the world (Africa, the Americas, Asia, Europe, and Oceania). The show has been delivered on-time, every week for over two years, and is available on iTunes, Google Play Music, Stitcher Radio, SoundCloud, TuneIn Radio, and www.NHTE.net, among other platforms. Guests have ranged from participants on "American Idol," "The Voice," and "America's Got Talent," to a Las Vegas headliner, a Rock & Roll Hall of Famer, and even the lead guitar player for Garth Brooks among others.