NHTE 204 Nicholas Wells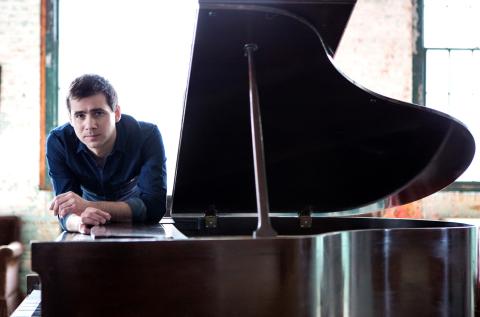 A singer, songwriter, multi-instrumentalist whose latest release, a six-song EP entitled "Now and Then," came out a few months ago and followed two full album releases and another EP. His original music has even aired on the SyFy network. And, he has worked with many notable artists, including having performed backup vocals for Adele at Radio City Music Hall in New York in November 2015, a performance that was later televised by NBC. He also played piano in a recent Five For Fighting Christmas special. Plus, as a musical director and producer he performed with and directed Scarborough, a band featuring front man Joe Scarborough from MSNBC, including performing with that band on "The Late Show with Stephen Colbert" and ABC's "The View." During this interview he gives great insights regarding Spotify as well as performing via live streaming services.
Show Quotes:
"I was doing some work in the studio with another artist and the session ended up going until, maybe, one in the morning, something like that, but through that whole time I just had that feeling I was holding onto that I needed to get out, I needed to turn into something. And as soon as the artist left the studio I went over to the piano and I just started playing and the emotion came out in the piano. And I sat there and I said, 'I have to get this out,' and I spent until, maybe, three, four in the morning there just getting all the words, all the music - it just came out in one shot."

"Usually when I write a song the title kind of presents itself in the chorus."

"Writing songs has always been this outlet that has meant so much to me in my life. It has helped me to wear my emotions on my sleeve."

"I've always been a tremendous fan of movie scores and how emotion can come across without even words, with just the dynamics and the inner working harmonies of movie scores."

"A lot of people don't realize how limiting actually Facebook and Twitter can be based on how many people you're following. If someone's following a thousand people, you have a very small chance of that person getting a glimpse of what you're posting."

"I've used Facebook Live and YouTube Live and Twitter - through Periscope - and I actually use a program called Wirecast, which can broadcast to all three of them... I think it's important to actually use them all, because you have some fans on Facebook that've never been on Twitter or you have people who have found your music on YouTube that don't even know that you have a Facebook or a Twitter account."

"It is extremely hard and difficult to get on any of the official Spotify-curated playlists. You have to be pulling in crazy numbers to be noticed by their curators or just straight up know somebody there. However, there are millions and millions of people who curate their own playlists who have a hundred followers or a thousand followers."

"I'm opening up a lot about the self-promotion that it takes. It's a full-time job to do this self-promotion. Because if you don't do it, people aren't going to hear your music."

"Do as many things as you can, and, be involved with as many projects as you can because I feel like every project I've been a part of has been a result of the last one I was a part of... The moment someone has to put together a team, they think of the last person they worked with."

"Everything you do pushes the ball forward... You just can't be complacent. You just have to put yourself out there and just keep doing. The more you do it'll lead you down any path that will open up more opportunities."
Songs on this episode:
"Empty Coffee Cups"
"What I'm Here For"