BUSY SINGER/SONGWRITER ALIGNS WITH NHT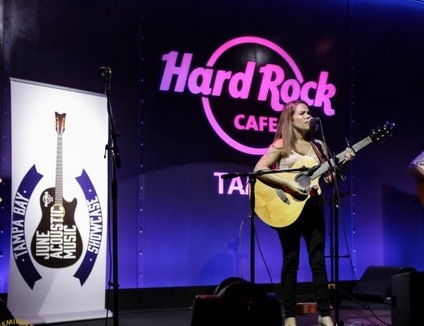 Having played 30 cities and 100-plus venues in Florida – including the Hard Rock – singer/songwriter Frankie Raye is clearly a very busy performing artist. As a result she has tapped Now Hear This to promote and book her further as she seeks to continue growing her music career.

"I have known Frankie for quite some time now," said Now Hear This President Bruce Wawrzyniak. "I have been very impressed at the way she has singlehandedly gotten herself into so, so many performance opportunities. Whenever I would glance at her upcoming shows calendar she was always booked on more and more dates. It means a lot to me that she would contact Now Hear This about taking her efforts forward to bigger and better things. It also shows me how serious she truly is at being a performing artist."

Frankie Raye released her first official album last year, with worldwide distribution, although she had put out a ten-song, self-produced/independently distributed release, entitled "Chapters," in 2014. Continuously writing music, she is already looking ahead to 2018 with a desire to do a full CD, hopeful to start pre-production early in the year.

Currently she is performing more than 20 dates per month, having been on stages ranging from the Hard Rock in Tampa to the Ritz Carlton in Naples to a festival on the northeast coast of Florida.

"I'm really excited that Bruce is taking the time to work with me and help me further develop my career," she said. "I've been an avid reader of the NHT blog, and the tips he's given have definitely helped me further my understanding of the music business. Although I've made some pretty long strides on my own, there's still so much I have to learn. I'm excited to see how far he and I can go while working together."

Frankie Raye has been featured on ABC and CBS-TV affiliate morning talk shows, gotten her music into radio rotation, and recently got an invitation to perform at the NAMM Show in Anaheim, California, next month.