Are House Concerts Right for You?
House concerts are definitely a mainstay on the live music scene now, and we've talked about them with a number of performer guests on "Now Hear This Entertainment." So, this week we present a guest blog on that topic from someone who addresses it both from the hosting and performing standpoint.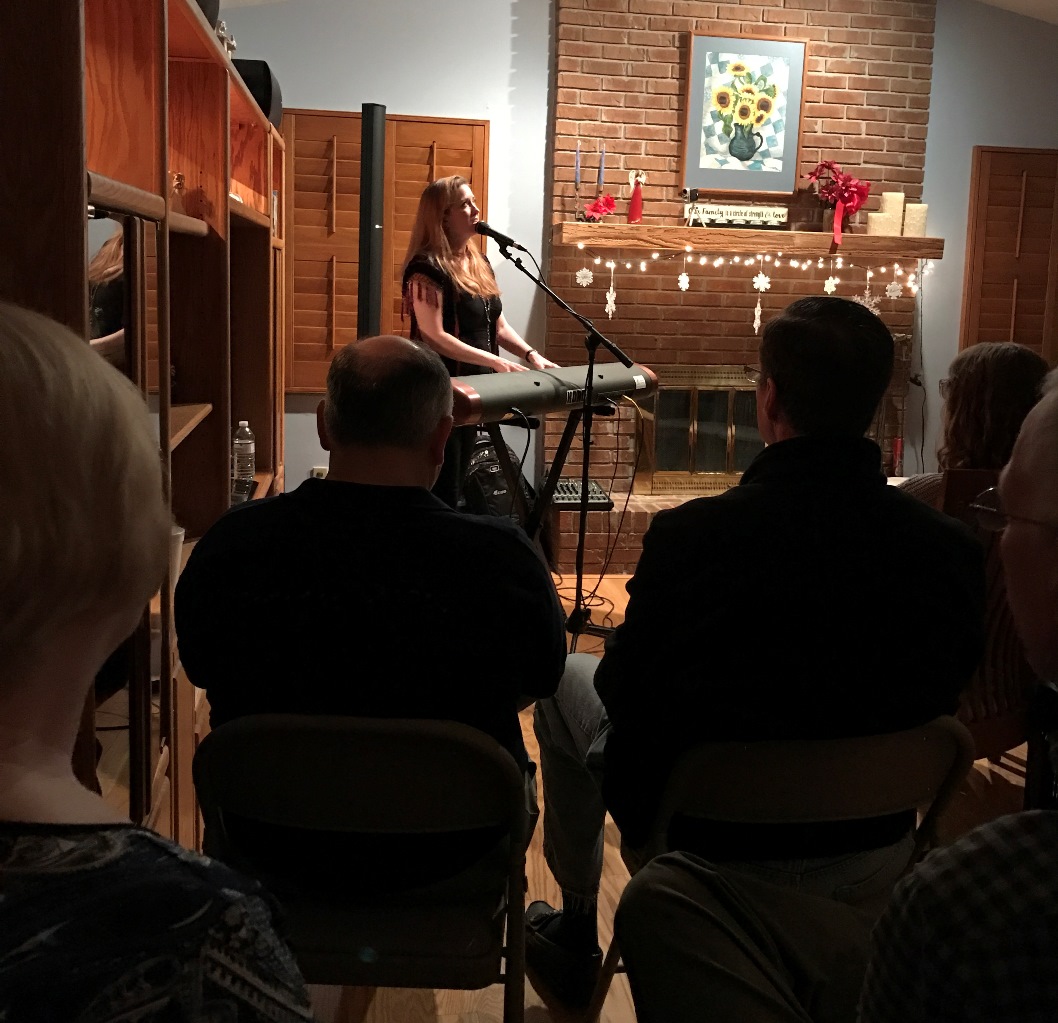 For music lovers like my husband, Mark, and me, it's a toss-up whether we prefer performing at house concerts or hosting them. We love playing for attentive audiences who come specifically to hear the music, lyrics, and the stories behind the songs. But, it's also a blast getting to know established and up-and-coming musicians and introducing them to our friends in intimate, musical gatherings at our home.

House shows create synergy that enriches the concert experience for the audience and players. Every seat is a front-of-the-theater seat, so listeners are engaged, and, in such close quarters, singers get immediate audience response. Musicians are relieved to play only one or two 45-minute sets in an evening for a great return. It's a pretty sweet gig.

Hosting house concerts is just plain fun. We invite talented musicians from around the world to join us for a home-cooked meal, a performance, and interaction with us and our friends. We provide free room and board for the performers, who are always grateful to have one less expense while on the road.

Our listening guests thank us, too, for arranging these informal yet professional shows that are easy for them to get to, serve music at a comfortable volume, and that allow dialogue with and up-close views of the players. Plus, the suggested donation is a fraction of the cost of a show in a big hall.

Mark and I performed at our first house concert in the 1990s, when a friend invited us to play at her home to entertain elite runners who were in Tampa for the Gasparilla Race. Singing for those athletes from Africa in our friend's living room was an unforgettable experience.

Shortly after that we heard a local artist at a living history exhibit. She was amazingly talented and versatile, singing and playing folk instruments such as bowed psaltery, dulcimers, and harp. We wanted our friends to hear her so we asked her to perform at a house concert for donations taken at the door. She came, sang, and the audience was delighted. She sold many CDs that night and collected contact info from her newfound fans.

Since then, Mark and I have hosted many concerts and were voted 2017 Concert Hosts of the Year by Concerts in Your Home. There's no charge to sign up as a host, and this site makes auditioning, checking references, booking, and communicating with artists easy. Players review hosts; hosts review performers. More than 300 singers and musicians are paid members—and often they recoup the fees from just one house show.

If you haven't considered house concerts, perhaps you should. They might be a good fit for you, too.

Barbara Routen is a musician, music teacher, and writer in the Tampa Bay area and an award-winning Letters and Music member of the National League of American Pen Women. Learn more at Barbara Routen Author Google + and LinkedIn.

Have you played one or more house concerts before? What was your experience like? If you haven't (yet), are you hoping to? Discuss this blog with Barbara Routen and other musicians in our Facebook Group.