6 Steps to a Good e-Newsletter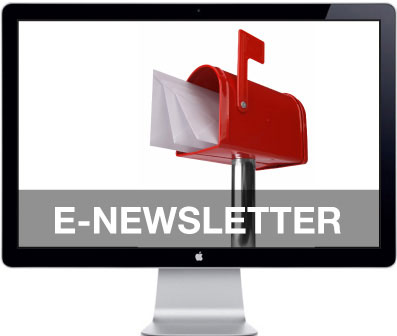 As my Inbox is bombarded each day with newsletters, I'm amazed at those that are less than perfect. My magnifying glass is out when I'm reading those that I choose to open.

Last week Monday I was out doing a presentation I've titled "Wat iz yer grammer saying about you're brannd: Methods to Safeguard Your Company's Image." Fast forward to the end of the week and, coincidentally, at a meeting on Friday some attendees who've seen and heard me give that talk were making reference to it and assuring someone that I was pointing out an edit to that "Bruce is your guy for proofreading and grammar."

Here are a handful of tips for making sure that your e-newsletter leaves the reader with what you want them to take away – not doubts about your credibility or professionalism, or laughs about your mistakes.

1. Email subject line – There's someone whose mailing list I'm somehow on who quite regularly puts the word "feedback" as the subject line, or part of the subject line. In fact, seven of this sender's last 20 emails were guilty of this. That means that 35 percent of the emails from this person looked similar enough that I've had to restrain myself from responding to one to say, "Get creative, and be original." However, I don't even bother opening those emails at this point. Don't have yours fall into the same dark hole because you're not changing your subject line.
2. Email preview – A lot of people use an email program that has a message at the top that I sometimes see overlooked. Nine days ago I received one of these. On a mobile device this is the preview that you see and on desktop it's the first line of text at the top – above the masthead. The email I saw nine days ago had the following at the top: "Some readers see this part of your email after the subject line in the inbox. Write something brief and catchy, compelling them to open the email." Uh oh. Hey sender – we're not supposed to see that!
3. Images – An e-newsletter that's straight text only is not going to be pleasing to the eye and could deter recipients from reading it. Find an image to match every other (if not every) news item. Be sure to put a caption or mouse-over text (or both), especially when it's not obvious what the image is and how it relates to the accompanying text. Remember – an image can be a photo or logo. Don't put pressure on yourself thinking that it has to always mean picture.
4. Length – Most e-newsletter creators fight with how much content they should include. The simple answer is this – somewhere between too little and too much. How much is that? The important thing is that you send something out, period. Don't avoid sending out a newsletter because you don't think you have anything newsworthy to say (because you do). At least send out something, so your followers are hearing from you. However, don't exploit that to where you're sending out something just for the sake of keeping newsletters going out, but all you have is a three-sentence paragraph. You know it's too long when the recipient starts reading, stops to wonder "How much longer is this," scrolls and scrolls (to check/without reading), and then stops due to the conclusion that, "Oh no, this is too long. I don't have this kind of time (interest)."
5. Frequency – Quite simply, aim for once a month at the least. Some people would say, "What?! No, a couple times a week!" However, if you're just starting out, the bottom line is, over time people will get used to (but not annoyed with) seeing your emails come in and you're trying to stay on their radar, not bombard them.
6. Check your work – Send yourself a test of the email first so that you can catch something like #2 (above) and/or #4 where – on your mobile device – you're scrolling and scrolling and scrolling.

The above is not a be-all, end-all, because obviously content is king and you can follow all of the above recommendations but have material that's a definite yawner and no one will care how perfect your newsletter is. And certainly the ability for the reader to opt out should go without saying. But check off each of the six tips I've given and feel good about being on your way to keeping the attention of your readers.