NHTE 210 Joey DeFrancesco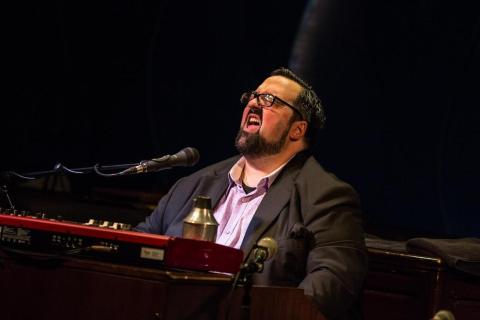 2018 Grammy nominee for Best Jazz Instrumental Album (his fourth Grammy nomination). He has recorded and/or toured with Ray Charles, Better Midler, Diana Krall, George Benson, David Sanborn, and many others. He played 200-plus nights a year throughout the course of his career. He was inducted in the inaugural class of the Hammond Organ Hall of Fame and two years later was put on the Philadelphia Music Walk of Fame. He got his first record deal at age 16 with Columbia Records and at 17 became one of the two youngest players ever recruited for a Miles Davis ensemble.
Show Quotes:
"I have about a dozen (organs) at home. I'm kind of a collector."

"At (age 10) I was playing for six years and I was really serious about it. I mean, I was a kid, I still had a Big Wheel and things like that, I would go outside. But mostly what I wanted to do was sit down and play the organ. It would get to the point where my mom and dad would tell me to stop, 'Go outside. Go play with your friends. Do something else.' I just wanted to play the organ all the time. I loved it so much."

"These were legitimate jam sessions. Of course, when I'd walk up, ya' know, you'd write (on) the list, your name, that you're gonna sit in, and I'd walk up there and people were like, 'Wait a minute, this kid's gonna sit in?' And then when I would play it was, 'Wow, okay, he can do something.' It happened very naturally."

"There's a lot of pressure now because of social media... If somebody shows some promise and has some talent and they get recognized in their environment, a local situation, then they see these things on TV (and) it's okay if they wanna go for it. (But) somebody should really make sure they're ready."

"Competition is good if it's positive. But... if five people are gonna be in here and you win, does it mean the fourth person was not as good or just different? They moved people in a different way."

"I think if you're serious about what you do, and you play everywhere that you can, as much as you can, and really work on your craft, that you're gonna be noticed eventually."

"He called Christmas Eve. He said, 'Don't make any moves. I wanna sign you to Columbia Records. I'll call ya' right after the first of the year. We'll send you a contract.'"

"I always say we get paid to travel, not to play. When you play for 90 minutes that's nothing but pure pleasure. But everything that goes on before that and after that, that's the hard part - getting on planes, and not getting enough sleep."

"You always have a huge significance as a musician or whatever your profession is. Everybody matters at what they're doing, especially if you're true to yourself and what you're doing and you really love what you're doing. It's not about all the accolades."
Songs on this episode:
"Better Than Yesterday"
"The Unifier"