NHTE 148 Zach Seabaugh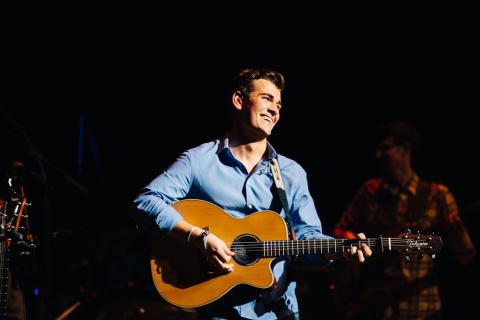 A just-turned 18 years old singer/songwriter who plays guitar, having released his first EP in June and held the number three spot on the iTunes Country Album chart. When he was 16 years old he was a semi-finalist on Season 9 of "The Voice," being mentored by Blake Shelton. He will be starring in a musical early next year.
Show Quotes:
"Now that I have my music out and now that my fans have something to listen to, it's really just given me the time to sit down in Nashville with a bunch of writers, figure out who I am as an artist still… and really just finding that sound and what type of work I want to put out to everybody, moving forward."

"I love Garth Brooks and Johnny Cash and Elvis Presley and all that, but, it's 2016, and it's trying to take that influence and that inspiration and try to make something of my own."

"'The Voice' really gets you to the starting line of your career. And I think that's how all the contestants really explain it."

"When I had auditioned for ('The Voice'), I had heard a girl in my math class talking about it, and the next day I decided to go audition. And so really I wasn't planning on going on the show. And so when I got out there at (age) 16, it was definitely an eye-opening experience and a great learning experience for me."

"I went on ('The Voice') really just wanting to know if this is something that I could pursue. I really didn't have the confidence before I met Blake (Shelton) as to walk on stage and really do my stuff."

"I think that's where a lot of people end up getting hurt, is, they get on ('The Voice') and then they think that that's it and that's really where the hard work is gonna start. It's really a workshop and a music boot camp for you. And then you get out and you know what you gotta do to make it happen. And it's not gonna happen right away. You gotta work hard and you gotta earn that respect in the industry."

"Whenever I go visit the hospital and visit with kids it really tugs at my heartstrings and I'm very thankful I'm able to join up with (Curing Kids Cancer)."

"I love to sing on stage and I'm very thankful that people are able to buy a ticket, ya' know, spend their money and come to a show, that really means a lot to me. But at the end of the day, I think it's all about giving back and being able to give either your time, talent, or treasure."
Songs on this episode:
"Nothing Good Happens After Midnight"
"Home to Mama"