NHTE 75 Ann Burstyn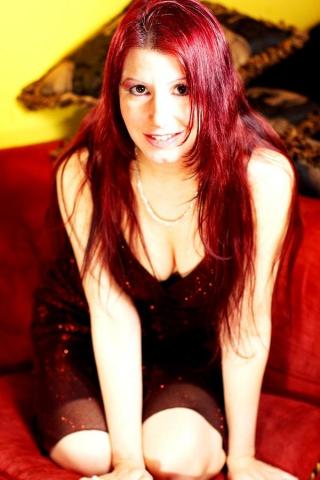 The lead vocalist for Dream Aria, ranked number one on the overall ReverbNation charts. The band has released three CDs, is working on new music, and has a video in heavy rotation on DirecTV. She talks about performing with her childhood idol, Glenn Hughes, formerly of Deep Purple, and about many influences that have resulted in Dream Aria's wide ranging sound. She also advocates for vocal health and lists the long line of musicians in her family.
Show Quotes:
"I would say we're more progressive rock. That's sort of our ground level foundation, definitely the progressive feel. Because we all have the progressive rock influences, going back, way back, to the early Yes, early Genesis, Emerson Lake & Palmer, all of that. So definitely that's our biggest influence within, from all of us within the band."

"When it was cold outside, which was a lot of the time, we were inside listening and analyzing and practicing and really perfecting, and yeah, Rush was definitely a huge influence. All of their records, there's been some kind of influence from every single Rush album for sure."

"When people ask me, 'Do you like to perform, do you like to do this and that,' no, my favorite thing is to be in the studio and in that moment, where something is being created from nothing, and you really don't know even where it's coming from. And that, to me, is the real magic of music. As much as I love listening to music, I think I like creating it even more."

"The power of the Internet, I would say, is obviously ranked right up there. Without that, I can't imagine that we'd be very far. I mean, there's no way. I mean, there's only so much word of mouth can do without the Internet."

"I still have stage fright, actually, after all this time, but even worse back then. I would not sing in front of anybody, nobody until I was probably in my 20s or 30s, actually. I was terrified, and, I thought, 'Well, how am I going to do something that I love so much? I can't do it because I don't want to sing in front of anybody.' So I decided … I'm going to become a record producer, because then I can still be around the music and be around that magic and I can hide behind the (console)."

"When I was (age) four, I remember listening to everything, going, 'I'm a singer. That's what I'm gonna do.' And I never changed my mind. But when I was nine, I was analyzing everything; vibrato, pitch, and tone, all of that stuff. But by the time I was nine, I was listening to Abba, the song 'S.O.S.,' this was the song that changed my life."

"Every single member of my family is a musician, on both sides, going back, like, great grandmother, great great great grandparents, every single person, even cousins, step-parents, stepbrothers, everybody. So there was no hope for me for getting away, and I wouldn't want it any other way."

"Anyone out there that's looking to improve their instrument, vocals or otherwise, absolutely a coach or a teacher can help you in so many ways. It's not a necessity, but it definitely can expand on what you have for sure and protect you."

(as a vocal coach) "I love hearing people's voices blossom, voices they didn't even know they had within them. So it's really rewarding for me too, it's not just them, it works both ways, it's really nice to see them blossom like that, it's amazing."
Songs on this episode:
"Fallen Angel"
"Transcend"